Organic Marigold Summer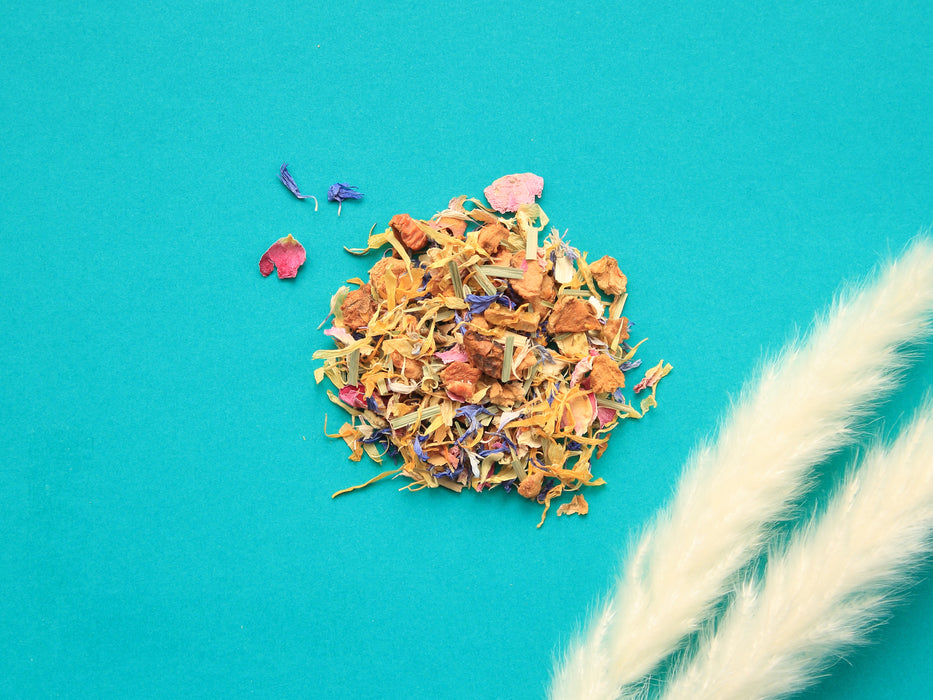 A Host Of Golden Bloom
"I wandered lonely as a cloud,
That floats on high o'er vales and hills,
When all at once I saw a crowd,
A host of golden daffodils."
- William Wordsworth

This infusion of sweet apple and mild fennel blooms to life with marigold blossoms, orange peel, and lemongrass. Pink rose petals and blue cornflower are perfect companions in the composition that invites you to dream away.
Sustainably sourced & all natural. 
Brew & Storage

Benefits
Food Pairing
Ingredients
Ideal quantity: 1.5 heaped teaspoon per cup / 200ml 

Temperature:  100°C 

Infusion time:  8-10 mins 

Store in a cool & dark place

Marigold has been renowned for helping alleviate cramps and aid digestion. It can also bring relief for nausea, stomach ulcers and menstrual discomfort.

Walnuts, pistachios and a Mediterranean salad

Marigold blossoms, apple pieces, fennel, orange peel, lemongrass, pink rose petals, blue cornflower blossoms. All from organic cultivation.